How To Find Energy-Efficient Window Treatments For Your NJ Home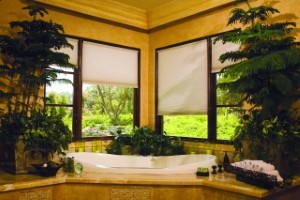 While the climate here in New Jersey isn't the coldest, it's cold, so we pay attention to energy-efficient products for our homes. Energy-efficient window treatments are all about the extra insulation for the windows. This is where most of the heat inside our homes leaks out. Every little bit helps when it comes to energy-efficiency but did you know that some window treatments can help lower your home's heating and cooling bills significantly?
Keep in mind that quality matters, so go for custom window treatments that are well made. Here are a few of the selections we offer if you are looking for energy-efficient window shades, blinds, or shutters in New Jersey.
Solar Shades
Solar shades are usually made of just one layer of material. They can be lined as well. The solar shades are attached to the top of the window frame and can also be attached to tracks down either side.
Solar shades come with options to open from the bottom up or top down. They were once a popular commercial window covering only, but now homeowners are taking advantage of the energy-efficient solar shades in their homes.
Solar screen shades are made to filter sunlight but still provide a great view. They can be attached to your patio opening or the interior of windows.
Cellular Honeycomb Shades
Honeycomb shades are popular because they help to improve the energy-efficiency of the home. They are formed of two or more layers of material that are formed into cell shapes, much like a bee honeycomb. Some manufacturers refer to them as cellular shades and some as honeycomb shades. They trap the air in between layers to help insulate the windows.
The honeycomb shades we carry from Hunter Douglas come in different styles. For instance, the honeycomb within a honeycomb cellular shade offers you even more home energy-efficiency than a standard honeycomb shade.
Wood Blinds, Wood Shades & Wood Shutters
Real wood blinds, woven wood shades, and wooden shutters provide natural insulation at the windows when closed. Wood blinds and shutters give you the most options to filter light and create privacy because you can open just the louvers.
If you are looking for a professional New Jersey window blinds, shades & shutter company,
Reach Out To Bergen County Blinds