Faux Wood Shades: The Perfect Blend of Elegance and Practicality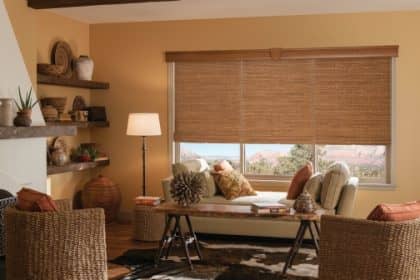 Faux wood shades, a versatile and increasingly popular window treatment option, offer a harmonious fusion of elegance and practicality for your New Jersey home. These shades, often crafted from high-quality PVC or composite materials, mimic the classic look of real wood while providing several distinct advantages. One of the key benefits of faux wood shades is their resilience in high-humidity environments, making them an ideal choice for areas like kitchens and bathrooms where moisture can be a concern. They won't warp, crack, or fade over time, ensuring they maintain their pristine appearance for years to come. This durability also makes them an excellent option for homes in regions like coastal areas or places with fluctuating temperatures, as they can withstand the elements with ease.
Another advantage of faux wood shades is their cost-effectiveness. While offering the aesthetics of genuine wood, they often come at a more budget-friendly price point, making them accessible to a wider range of homeowners. Their easy maintenance and resistance to staining or discoloration make them a practical choice for busy households. Additionally, faux wood shades are available in a variety of finishes and colors, allowing you to find the perfect match for your decor style, whether you prefer a rustic, natural look or a sleek, modern finish. Overall, faux wood shades represent a smart investment for those seeking the timeless appeal of wood with added durability and affordability.
Enhance Your Windows & New Jersey Home with Bergen County Blinds Faux Wood Shades
When it comes to selecting top-quality faux wood shades for your home, Bergen County Blinds stands as the name you can trust, just as you have for our exquisite woven wood shades. Our commitment to craftsmanship and customer satisfaction extends seamlessly to our faux wood shade collection. With Bergen County Blinds, you'll discover a wide array of faux wood shades that perfectly replicate the natural beauty of wood while offering unparalleled durability and affordability. Our shades are designed to withstand the test of time, resisting warping, cracking, and fading, making them an excellent choice for any room, including high-moisture areas like kitchens and bathrooms. With a range of finishes and customizable options available, you can trust Bergen County Blinds to provide you with the ideal faux wood shades that not only complement your decor but also enhance the overall aesthetics and practicality of your living space.
Improve Your New Jersey Home with Faux Wood Shades: Why Choose Bergen County Blinds
Transforming your New Jersey home with the timeless charm and practical benefits of faux wood shades is a decision that offers numerous advantages, especially when you choose Bergen County Blinds as your trusted provider. Our faux wood shades not only replicate the natural elegance of wood but also come with unique perks tailored to the needs of New Jersey homeowners. Here are compelling reasons why opting for faux wood shades from Bergen County Blinds is the ideal choice for your Garden State residence:
Moisture Resistance: New Jersey's diverse climate includes humid summers, making faux wood shades an excellent choice. Crafted with materials resistant to moisture, our shades won't warp or degrade in high-humidity environments, making them perfect for kitchens, bathrooms, and coastal homes.
Durability and Longevity: Our faux wood shades are engineered for lasting performance, ensuring they maintain their pristine appearance for years to come. They won't crack, fade, or peel, even when exposed to the fluctuating weather conditions often experienced in New Jersey.
Energy Efficiency: As New Jersey homes encounter varying temperatures throughout the year, our faux wood shades provide insulation, helping to keep your living spaces comfortable and potentially reducing your energy bills.
Customization Options: With Bergen County Blinds, you have the freedom to customize your faux wood shades with a variety of finishes, colors, and textures, allowing you to create a look that perfectly complements your home's decor and your personal style.
Selecting faux wood shades from Bergen County Blinds is not just about practicality; it's about elevating your living space with a touch of elegance and durability. Our commitment to quality craftsmanship and customer satisfaction ensures that you're making a smart investment in the comfort and aesthetics of your home. Call today to discuss the benefits of opting for faux wood shades for your home in New Jersey.
Reach Out To Bergen County Blinds For
CUSTOM BLINDS, SHADES, SHUTTERS, OR WINDOW TREATMENT IN RAMSEY AND SURROUNDING AREAS!