Your Shades Experts in Bogota, NJ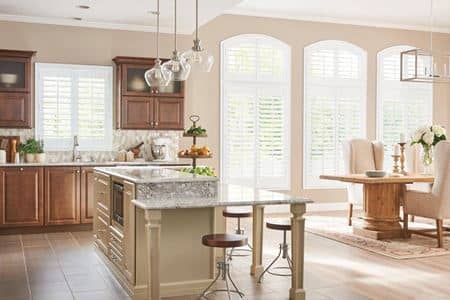 Without the assistance of a reputable shades and blinds expert, you may be misled into purchasing roller shades or woven shades that don't complement your interior design style or personal preferences. To prevent this unfortunate situation, contact shades and blinds professionals at Bergen County Blinds to discuss different types of window treatments and which ones will suit your Bogota home.
Choose Roller Shades for Your Bogota Home
Roller shades aren't bulky or complex, so many Bogota homeowners find them appealing. If you're looking for shades with a minimalist style, speak to the shades and blinds experts at Bergen County Blinds about roller shades. These shades usually operate using a cordless spring system that functions when the cord or fabric is pulled so that the shades can roll up or down. Other roller shades operate with a motorized system and a remote control.
When selecting roller shades, you can choose from styles with tassels, decorative trim, or painted designs and materials such as plastic, bamboo, and burlap. You should also consider the Sonnette™ Cellular Roller Shades offered by Bergen County Blinds if you're interested in shades with a unique curved shape and innovative light control.
Woven Shades That Will Suit Your Interior Design Style
Woven shades are also popular window treatments, and they offer an organic and rustic appearance. Usually, natural woven shades are constructed with reeds, grasses, and other sustainable materials. These shades don't provide extensive light control and privacy, so many shades and blinds specialists recommend that Bogota homeowners pair them with roller shades or liners.
Bergen County Blinds offers several types of woven shades, including Alustra® Woven Textures®, a high-end design of a blended weave with unique fibers that is available in dual roller and gliding panel options, and Provenance® Woven Shades, a hand-woven design made from natural fibers.
If you are looking for a professional Bogota window blinds, shades & shutter company,
Reach Out To Bergen County Blinds