Experience Timeless Elegance with Luminette Shades in Ramsey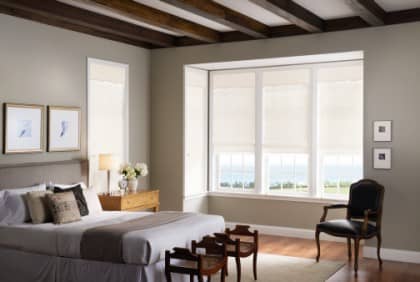 At Bergen County Blinds, we're passionate about providing the finest window treatments for Ramsey, NJ homeowners. As the premier source for custom window treatments for Ramsey, our luminette shades are the ideal choice for those seeking a harmonious blend of style and practicality. Luminette shades, also known as vertical sheers, add a touch of timeless elegance to any room in Ramsey, creating an ambiance that's both inviting and functional.Are you looking for beautiful new luminette shades for your Ramsey home? If so, give our team of skilled professionals a call today and let us show you the kind of quality results that have helped make us the most trusted source for quality luminette shades and cordless shades the area has to offer.
Our luminette shades in Ramsey offer a perfect combination of softness and light control. With these unique window treatments, you can enjoy the grace of sheer drapery while having the flexibility to manage natural light and privacy. Whether you're looking to create a cozy atmosphere in your living room or a serene bedroom setting, luminette shades provide the versatile solution you need in Ramsey, NJ.
Benefits of Luminette Shades
Choosing luminette shades for your Ramsey home brings a host of benefits that go beyond their exquisite appearance. Here's why luminette shades are the perfect choice:
Elegance: Luminette shades provide a touch of sophistication, making them a perfect fit for various interior design styles.
Light Control: Adjust the vanes to control the level of natural light and maintain privacy effortlessly.
Versatility: Suitable for large windows, sliding doors, and any room in your Ramsey home that needs a distinctive touch.
Privacy and Style: Achieve both privacy and style with these graceful window treatments.
Elevate your Ramsey home with the enduring beauty of luminette shades. Contact Bergen County Blinds today, and let our experts help you select the perfect custom window treatments to transform your living space.
Cordless Shades for Convenience and Safety
For those in Ramsey looking for a convenient and safe window treatment solution, our cordless shades are an excellent choice. Cordless shades offer a sleek and child-safe environment, ensuring a clutter-free and elegant look for your home. The absence of cords enhances both safety and aesthetics, making them a practical choice for Ramsey, NJ homeowners. Cordless shades provide a modern and minimalistic appearance that complements a variety of interior styles. Whether you desire a clean, uncluttered look for your living room or a practical solution for your child's bedroom, our cordless shades offer a versatile and stylish window treatment option in Ramsey, NJ.
Reach Out To Bergen County Blinds For
CUSTOM BLINDS, SHADES, SHUTTERS, OR WINDOW TREATMENT IN RAMSEY AND SURROUNDING AREAS!