Experienced Window Blind Experts in Teterboro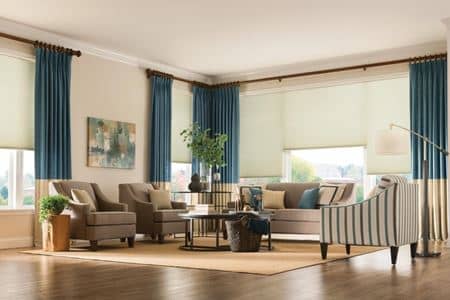 If you're in the market to get new window coverings for your Teterboro home, you need to look to none other than Bergen County Blinds. Our window blind company offers a line of quality products to help you find the best coverings for your home:
Blinds
Shades
Shutters
Treatments
Your window coverings are some of the most important installations you'll get for your home, so you need to make sure to get the best quality products when it comes to them. Fortunately, getting the best window coverings is as easy as calling our Teterboro team!
Enjoy Our High-Quality Wood Blinds
An excellent choice for any home is wood blinds. Just why is that, you might wonder? Well, for one thing, wood blinds are among the most durable and longest-lasting window covering option out there. So, if you're shopping for a product that you'll get more than your money's worth from, you'll find wood blinds to be the choice for you.
Longevity isn't the only thing that wood blinds can offer, though. Are you in the market for a beautiful product that will work with any design and décor? Well then, wood blinds are still right for you. Coming in many colors and sizes, wood blinds will make any home's look.
Honeycomb Shades That Will Lower Your Energy Costs!
Yes, longevity is important in a window covering product, and yes, beauty is, too. You know what else is important, though? Money. No, we can't offer you a product that will make money appear out of thin air, but we can offer you something that's nearly as good: honeycomb shades.
What makes honeycomb shades ideal in terms of money is that they provide excellent insulation for your Teterboro home. This extra insulation will allow your heating and cooling units to work more efficiently, helping to lower your energy costs. Give our team a call today if you're ready to start enjoying this money-saving benefit today.
If you are looking for a professional Teterboro window blinds, shades & shutter company,
Reach Out To Bergen County Blinds