Your Expert Local Window Blinds Company in Roselle, NJ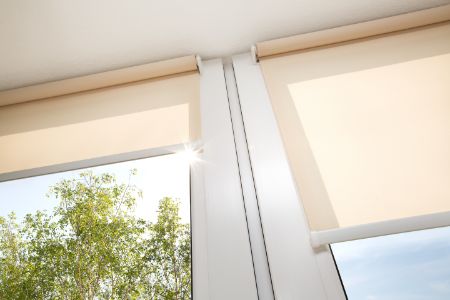 Bergen County Blinds is the premier company to choose in Roselle for window blinds. We know you are ready to find your style and customize your home with blinds, shades, or shutters. It's the finishing touches that make a house feel more like a home - more excitingly, your home!
You deserve top-quality products from a catalog of what seems like neverending styles. Best of all, you have our team of industry experts there for guidance every step along the way.
We'll walk you through the process, starting with our free in-home consultation and ending with our professional installation. Our products are backed by a warranty and your satisfaction is guaranteed. In Roselle, give us a call today at 201-312-4033 to get started.
Roselle's Premier Choice For Custom Window Blinds
It's no surprise that window blinds are a popular choice among homeowners in Roselle. We're proud to offer the highest quality wood blinds and faux wood blinds, and we'll even help you decide which one is best for you. However, the benefits of window blinds that make them such a usual choice include:
Sleek Profile
Energy Efficiency
Optimal Light Control
Versatile Styles and Colors
Cost Effectiveness
We're enthusiastic for the opportunity to meet with you and show you a catalog of sensational choices. We'll also provide you with a portfolio of our previous work and projects. You're going to love the work we do for you, and that's a pure fact.
Roselle Customers Need Superior Service From Our Shutter Company
Please don't feel obligated to choose only blinds because we offer other options too. Some homeowners prefer one uniform line of work throughout the house, while others prefer a unique style for each room. One consistent thing is the quality of the products we provide for our customers.
Shutters provide unique advantages for homeowners:
Improved Privacy
Maximum Light Control Capabilities
Heightened Insulating Properties
Reduced Hot and Cold Transfers
There's a lot to think about when it comes to window coverings. Our team is devoted to excellence, and we strive to provide superior service for our clients. We're working together for a shared mission of making your house feel and look more like your dream home.
Window blinds, shades, or shutters are the one feature of your home that changes both the interior design aesthetic and the exterior curb appeal. Make the wise choice by contacting Bergen County Blinds to improve your home sweet home in Roselle.
Reach Out To Bergen County Blinds For
CUSTOM BLINDS, SHADES, SHUTTERS, OR WINDOW TREATMENT IN RAMSEY AND SURROUNDING AREAS!