Your Local Pro Window Blinds Company in Roselle Park, NJ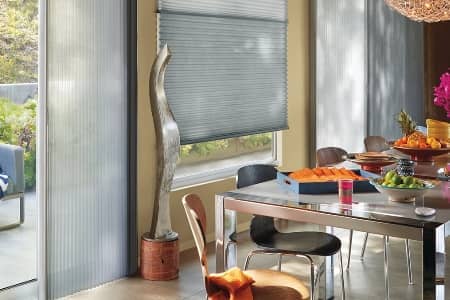 Bergen County Blinds is the only name you need to know when it comes to window blinds for your Roselle Park home. We've done well to make ourselves stand out from other companies in the area that provide window treatments.
For one thing, we offer the best in high-quality custom window blinds. That means you get top-level materials with a custom fit, all professionally installed by our team.
Know the difference between a window blinds, shades, and shutters specialist and a standard salesperson. Our interests and primary professional focus are on customer satisfaction - not just our profit. For great customer service with a smile that will ensure you love the window coverings in your Roselle Park home for years to come, give our company a call today.
Our Window Blinds Make Your Roselle Park House Feel Like Home
Imagine if you had to maneuver your way through the process of selecting window blinds on your own. How would you decide between options like wood or faux wood blinds, for instance? How would you make sure your window blinds were properly installed for long-term use inside your Roselle Park home?
The good news is that you'll never have to be concerned because you'll always have the Bergen County Blinds team to rely on for expert assistance. We offer a free in-home consultation, and our job is to help explain to you the different options you have and then offer feedback about which will suit you best in your household.
We'll start by explaining the pros and cons of faux wood versus real wood for blinds, including:
Price: Faux wood blinds are more budget-friendly, but real wood offers a higher return on investment.
Durability: While both are sturdy and long-lasting, wood isn't suitable for rooms with moisture like bathrooms.
Beauty: Both offer a stunning look, but nothing can replace or top the rich texture of natural wood.
Your Best Bet For A Roselle Park Shutter Company
Did you know that shutters are actually older than the concept of window glass? Before windows, we know they existed as shutters were used to cover window openings and adjusted to let in light and air. Then glass windows were invented, and shutters were still used for protecting the delicacy of glass.
Shutters have evolved quite a lot over the years and now offer homeowners advantages like:
Glass Protection
Superior Light Control
Optimal Privacy
Window Insulation
Energy-Efficiency
In Roselle Park, homeowners adore our window shutters, shades, and blinds, so call now for service for your own home.
Reach Out To Bergen County Blinds For
CUSTOM BLINDS, SHADES, SHUTTERS, OR WINDOW TREATMENT IN RAMSEY AND SURROUNDING AREAS!