Your Rockleigh Window Covering Pros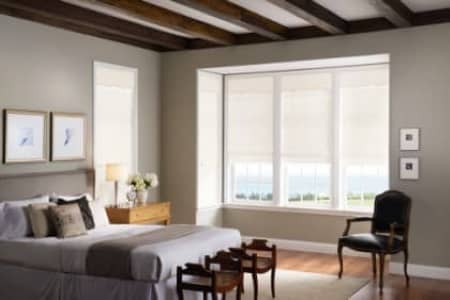 When you find yourself in the market for quality window coverings, you need to look to none other than Bergen County Blinds. Our experienced Rockleigh window blind company can provide any window covering option you may be in the market for:
Shades
Shutters
Treatments
And more!
We make it our mission to provide nothing but the highest-quality products and services to ensure that your home maintains stunning, high-quality window coverings. Whether you're looking for honeycomb shades, plantation shutters, or any other window covering, you can depend on us to provide what you're looking for.
You can also depend on us to provide motorization for your Rockleigh home. Motorization is a great installation if you are looking to add convenience to your daily life at home, as it allows you to operate your shades with the touch of a button. Call us today to get this or any other window covering product.
Better Insulation with Honeycomb Shades
Do you find yourself struggling to pay all of your monthly expenses? If you do, then you need to take steps to lower those expenses as best you can. When it comes to your heating and cooling costs, you'll find honeycomb shades to be a true lifesaver.
After all, honeycomb shades add extra insulation to your Rockleigh home, and this insulation will allow your HVAC to work as efficiently as ever. This efficiency will be reflected in your monthly energy bills, which you should notice will be significantly lower than ever before.
Enjoy Our Long-Lasting Window Shutters
As you shop for new window covering products, you may find yourself prioritizing durability and longevity over many other qualities. If you are, then you may find shutters to be right up your alley, as they are durably made of high-quality materials and are guaranteed to give you many years of reliable use.
Of course, shutters are more than just durable and long-lasting. They are also a stunning window covering option, and they are sure to complement any home design and décor. Call us today if you're ready to enjoy all of the great benefits that quality shutters can provide.
Motorization to Add Ease to Your Home Life
Do you or a loved one have limited mobility? If so, you need to make your home as accessible as you can in order to live as independently and as comfortably as possible. For this purpose, you can't go wrong by getting motorization for your Rockleigh home.
Motorization will remove some measure of strain from your home life by allowing you to open and close your shades with the touch of a button. If you're ready to add this kind of ease to your life, give our expert team a call today about our quality motorization products.
If you are looking for a professional Rockleigh, NJ window blinds, shades & shutter company,
Reach Out To Bergen County Blinds