Ridgefield's Dependable Window Blind Company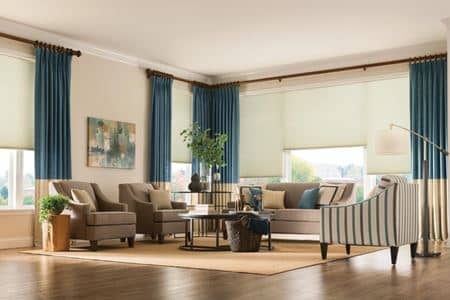 When you need to get high-quality new window coverings for your Ridgefield home, you need to look to the area's experienced window blind company, Bergen County Blinds. We offer a line of top-rated products to help you find the window covering option that's best for you:
Shades
Shutters
Blinds
Treatments
Are you shopping for a durable option with a classic look? Then perhaps you might like our plantation shutters. Want something that will help to lower your energy costs? Ask about our honeycomb shades. No matter what kind of window covering you're in the market for, you can count on us to provide the products you're looking for.
You can also count on us to provide quality motorization products for your Ridgefield home. This installation will add ease and convenience to your life, as it will allow you the ability to open and close your window coverings with just the push of a button!
Enjoy the Money-Saving Benefits of Honeycomb Shades
Owning a home is a costly ordeal, one that may make you feel a bit tight in the wallet at the end of every month. So, you'll want to take steps to get a hold on your monthly expenses in order to increase your bank account and decrease your stress levels.
A great first step toward lowering your bills is to get honeycomb shades for your Ridgefield home. Honeycomb shades add extra insulation to your home, helping to low your monthly heating and cooling costs. Call us today if you're ready to enjoy the financial benefits that this window covering option can offer.
Stunning, Durable Window Shutters for Your Ridgefield Home
When shopping for new window coverings, you are likely doing so with two qualities firmly in mind: beauty and durability. Your window coverings are as much a decoration as they are a utility, and you should expect to enjoy their beauty and utility for many years to come. So, you should opt for an option that is as durable as it is beautiful.
For that purpose, you can hardly do better than window shutters. Durably constructed from high-quality materials, shutters are bound to give you many years of dependable usage. On top of their longevity, they can also offer a stunning and timeless look for your home, making them a great option if you're looking for something that offers beauty and longevity.
Motorization to Add Ease to Your Home Life
Your home should enjoy the kind of privacy and beauty that quality window coverings can provide for it. However, those qualities are not all that it should enjoy. After all, you should also strive to add ease to your home – especially if you have any degree of mobility issues.
With that in mind, you can still depend on our Ridgefield team. We offer motorization that will add this kind of ease to your home since you'll be able to use your blinds or shades with the push of a button. Give us a call if you're ready to enjoy the convenience that motorization offers.
If you are looking for a professional Ridgefield, NJ window blinds, shades & shutter company,
Reach Out To Bergen County Blinds