Bergen County Blinds: Rahway's Specialists In Window Blinds Services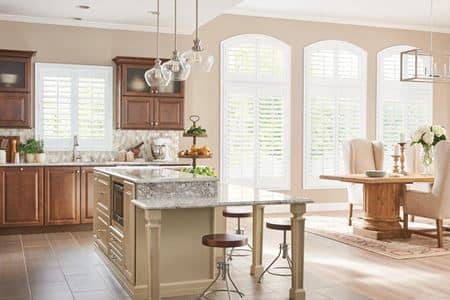 For an unmatched experience choosing window blinds for your home in Rahway, turn to Bergen County Blinds. Our product specialists have an in-depth understanding of the industry and a superior ability to work with customers. It's about creating the perfect look and feel for your home using the highest-quality window treatments.
Our team is with you every step of the way, from the first consultation and selection to the installation's completion. Contact us now to schedule your free consultation, and rest assured that your satisfaction is our primary concern.
Homeowners commonly make the unfortunate decision to opt for ready-made blinds, shades, or shutters, but doesn't your home deserve better? Our custom treatments are distinctively superior and will become a worthy focal point in your Rahway home.
Experts In Window Blinds Offering Outstanding Service For Rahway Clients
Window blinds come in all shapes and sizes, figuratively speaking. In reality, they do come in a variety of colors, materials, slat sizes, and custom measurements. The objective is to find the right fit for your Rahway home, both in size and style.
At Bergen County Blinds, we provide wood and faux wood blinds, so how can you choose between the two? Some clear distinctions between the two options are:
Price - Real wood is always more expensive
Moisture-Resistance - Faux bois is better for humidity
Value - Natural wood increases the worth of your home
Uniqueness - Real wood slats are individually unique
Durability - Wood alternatives are sturdier
This probably isn't enough information to base your decision on; however, it should be a good starting point. Feel free to ask any questions you may have about our exceptional real or faux wood for your blinds. It's as important to us as it is to you that you make a choice you'll feel good about for years to come.
Your Reliable Shutter Company In Rahway
It would be so much less complicated if choosing window treatments was based only on good looks. However, for long-term success and functionality with your blinds, shades, or shutters, there are more criteria to concern yourself with.
Shutters do indeed have a sleek and timeless look that pairs well with any interior design aesthetic. Let's take a moment to appreciate some of their other redeeming qualities:
Sturdy
Durable
Easy to Clean
Insulating
Easily Adjustable
For homeowners looking for the best way to take care of light and privacy control, shutters are the ideal choice. Please take a moment to contact us today, and let's discuss window blinds, shutters, or shades for your home in Rahway.
Reach Out To Bergen County Blinds For
CUSTOM BLINDS, SHADES, SHUTTERS, OR WINDOW TREATMENT IN RAMSEY AND SURROUNDING AREAS!