Experienced Northvale Window Covering Professionals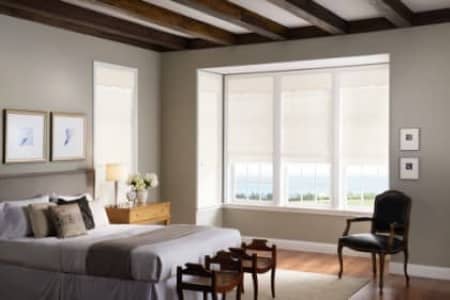 If you're in the market for quality window coverings for your Northvale area home, then you need to look to the experienced window blind company, Bergen County Blinds. We can provide the coverings you need thanks to our impressive line of products:
Blinds
Shades
Shutters
Treatments
By coming to us to handle your window-covering needs, you are guaranteed to get the best results since we carry only high-quality products. No matter what covering option you're in the market for, you'll enjoy a beautiful, long-lasting one by coming to us.
You can also get high-quality motorization for your Northvale home's shades by coming to us. This installation will prove invaluable if you or a member of your household has limited mobility, as it allows operation of your shades with just the touch of a button.
Enjoy an Elegant Look with Shades
While you might shop for new window coverings for their practical benefits of providing privacy and light control, you shouldn't overlook the aesthetic qualities they can offer. After all, your window coverings can accentuate your Northvale home's beauty, making it look better than ever.
A great product option when it comes to aesthetics is shades. This timeless installation will add a stunning, elegant look to your home, making it look its absolute best. This aesthetic quality combined with their blackout options makes shades an overall great window-covering option for any home.
You'll Save Money with Honeycomb Shades
At the end of the day, you may find yourself far more concerned with finances than aesthetics. That makes sense. After all, owning a home is by far one of the costliest undertakings you'll experience, and you need to look for any way -- big or small -- to get some control over your monthly finances.
Fortunately, you can get some measure of control over your electric bills with your window coverings -- specifically with honeycomb shades. This window-covering option will provide extra insulation for your home, helping to lower your monthly heating and cooling costs by a noticeable margin.
Get Motorization for Your Northvale Home
Do you or another member of your Northvale household have limited mobility or other physical concerns? If so, you may find many everyday tasks something of a chore -- even a headache -- to handle. This, of course, means that you need to find any possible way to add ease back to your life.
For that purpose, you'll love motorization. Motorization allows you to open and close your window coverings with just the touch of a button. So, should you or a loved one experience difficulties handling this routine task, you'll find motorization to be your answer to an easy life once more.
If you are looking for a professional Northvale, NJ window blinds, shades & shutter company,
Reach Out To Bergen County Blinds