Your New Milford Window Covering Experts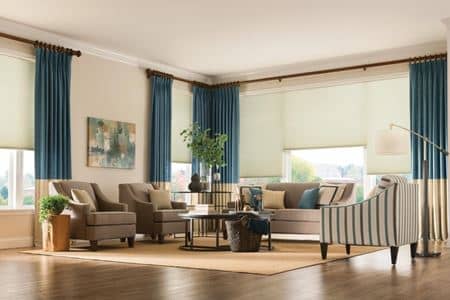 If you're looking to get high-quality blinds for your New Milford home, then you need to call the area's experienced window blind, shade, and shutter company, Bergen County Blinds. We offer an excellent line of products that are sure to meet all of your window-covering needs:
Blinds
Shades
Shutters
And more!
Your window coverings serve a number of important functions: providing privacy, adding to your home's overall appearance, and even regulating your energy bills. Since this installation can be so useful in so many ways, you can't afford to scrimp on their quality -- which is why you need to be sure to get yours from our dependable company.
Likewise, you need to come to us if you're in the market for shades motorization for your New Milford home. This installation will allow you to operate your shades with just the touch of a button, adding convenience and value to your home in no time at all.
Quality Shutters from Our Experienced Team
When you invest in high-quality window coverings, you should rightly expect them to go strong for years to come. After all, quality coverings are sure to cost you more than a bit of change, meaning you'll want to get every cent of your money's worth out of them.
If you're shopping with durability and longevity in mind, you should look to none other than window shutters. Shutters are well-crafted from high-quality products, and they are sure to provide many years of privacy and protection for your New Milford area home.
Honeycomb Shades to Lower Your Electric Bills
Owning a home is no cheap ordeal. Every month, you'll find yourself dealing with a bevy of expenses -- everything from unexpected expenses to predictable monthly bills. While you can't do anything about the unexpected expenses, you can take some control over the monthly ones.
A great way to do that is to get honeycomb shades for your home. This window-covering option will help to lower your monthly heating and cooling costs by adding additional insulation to your home. So, if you're looking to get some control over your expenses, you can't go wrong by opting for this window covering.
Get Motorization to Add Convenience to Your New Milford Home
Window motorization is one of those little installations that can make a big difference in your quality of life -- especially if you have limited mobility. This installation will allow you to open and close your window coverings with just the touch of a button, allowing you to do so without struggling whatsoever.
On top of this practical benefit, motorization can also increase your New Milford home's resale value, making it an overall great investment. If you're ready to enjoy the practical and financial qualities that motorization offers, call us today.
If you are looking for a professional New Milford, NJ window blinds, shades & shutter company,
Reach Out To Bergen County Blinds