Bergen County Blinds: Little Falls' Top Choice For Shutters, Shades, And Blinds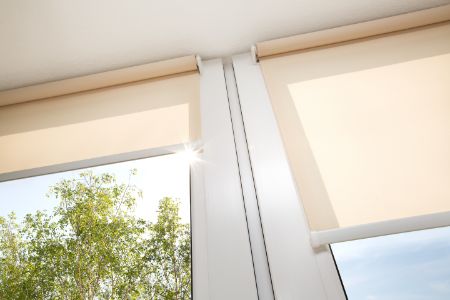 Whether you're looking for the ultimate in luxury or want a simple window treatment at the best prices, you'll find what you're looking for at our Little Falls window blind company. Bergen County Blinds is proud to offer a huge assortment of custom window blinds, shades, and shutters that are made to last. We carry and install custom window treatments at discounts of up to 35% off retail. We'd be happy to show you what your favorites would look like in your home or business. Contact us today if you're interested in a free design consultation from our Little Falls window blind company!
Window Shades For Your Home In Little Falls
As the premier company providing Little Falls with quality window treatments, we're proud to be able to offer honeycomb shades, also referred to as cellular shades, to our clients. Many people prefer this type of window covering because of its unique design making it superbly functional. This pleated style of window shade creates air pockets that act as an additional layer of insulation for your home. This is an ideal way to cut your energy consumption and save money on your heating and cooling bills. Not to mention, this type of window treatment looks stylish and works well with just about any interior design aesthetics.
Another style of shade we provide is roller shades. Ask anyone with roller shades in their home what they love about them, and one of the first things that you'll hear is the soft, diffused light. This is an ideal way to reduce direct sunlight while still allowing soft natural light to come through and make your home gently bright.
Not many other companies will take the time required to review with you the pros and cons of each type of window treatment, but we're a window blinds company that will. While this style of window shade is favored due to its simplicity in both design and visual appearance, it still has plenty to offer. You have so many fabrics, patterns, colors, and more, to choose from, and you'll appreciate the customized look we're able to help you put together. Don't take risks and end up not loving the final outcome when we can guarantee your satisfaction.
Benefits Of Motorization In Your Little Falls Home
Being able to open and close your blinds or shades with the touch of a button makes them easier to use and makes you more likely to use them. But why is that a big deal?
Motorized window shades help a great deal with saving energy. You're able to make adjustments throughout the day according to the temperature and the amount of light you're getting. This is the best way to make your household more energy-efficient.
Of course, many homeowners appreciate that this makes your home more secure. Don't let potential criminals gain visual access to the inside of your home. It also helps that you may be preventing a break-in just by remotely adjusting the blinds and causing a burglar to have doubt about the home being empty.
Not having window treatment cords makes your home safer. Eliminating something that your child or pet could injure themselves with is always a good idea.
If you are looking for a professional Little Falls, NJ window blinds, shades & shutter company,
Reach Out To Bergen County Blinds