Experienced Window Covering Pros in Leonia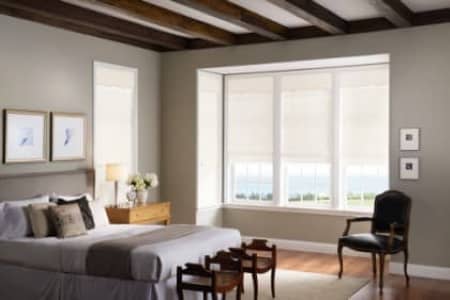 Are you in the market to get high-quality new window coverings for your Leonia area home? If you are, you need to call on the experienced window blind, shutter, and shade company, Bergen County Blinds. We offer just about any window covering you may be looking for:
Blinds
Shades
Shutters
And more!
If you're in the market for a product that can actually help to save you money, you'll find you can't go wrong with honeycomb shades. This window covering will provide extra insulation, which will lower your heating and cooling costs. If you're looking for something with more of a classic look, you'll be just as happy with our stunning plantation shutters.
Our Leonia window covering team even offers more practical products such as window motorization. Motorization is a great option if you or a loved one have limited mobility, as it allows you to operate your shades with the touch of a button. Call us today to enjoy any of our top-rated products!
Quality Honeycomb Shades from Our Dependable Team
Do you find yourself all but dreading your monthly heating or cooling costs? Are your energy bills just about getting out of hand? If so, you might want to look into honeycomb shades. By providing extra insulation, honeycomb shades can help to lower your home's energy bills significantly.
Of course, this window covering option doesn't trade beauty for functionality. It is a stunning, unique installation that will have your home looking like a work of art. Want the best in beauty and functionality? Then you can't go wrong with honeycomb shades!
Get High-Quality Plantation Shutters for Your Leonia Home
When you get any new installation for your Leonia home, especially an installation as important as your window coverings, you'll surely want to get the most use out of them that you can. So, when shopping for new window coverings, you may want to do so with longevity in mind.
When it comes to longevity, few window covering options can hold a candle to plantation shutters. Durably made of high-quality materials, this stunning window covering option will provide the privacy and natural light control you need for many years to come.
Call Us to Get Motorization Today
If you or another member of your household has limited mobility, you may want to do all you can to make your Leonia home as accommodating as you can. When it comes to your windows, you'll find that something you can do is to get motorization for your shades.
Motorization will allow you to operate your shades with the touch of a button. You'll be able to let in as much or as little natural lighting as you need without having to strain yourself. Call us today if you're interested in getting motorization for your home.
If you are looking for a professional Leonia, NJ window blinds, shades & shutter company,
Reach Out To Bergen County Blinds