Bergen County Blinds Is Hoboken's Premier In Window Coverings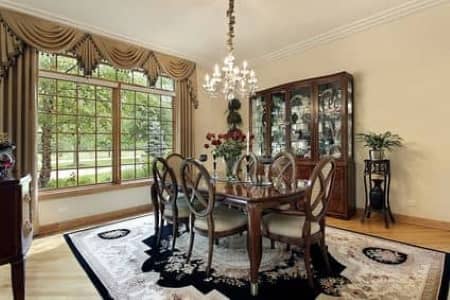 Looking for a professional to work with for your Hoboken shutter company services? If so, you've come to the right place! Locals here know the name to trust in is Bergen County Blinds. Our name has become synonymous with knowledgeable and courteous window treatment expertise and that is something we're proud of. We've earned our reputation doing what we, or any window treatment company, should be doing-- providing superior work and results. This includes going above and beyond when it comes to the work we do for each and every one of our clients.
We provide the best in pricing, starting with our free in-home consultation. As a full-service shutter company, we offer a wide variety of options and alternatives so that you never have to settle for less than the best when it comes to creating the look that you want for your Hoboken home. Why repaint or remodel when you can transform the look of your home with our window covering options? Your shutters or blinds are something that will impact the look of the interior and exterior of your home, so make it a point to choose wisely.
Hoboken Will Love Our Versatile Shutters
Window coverings are becoming more and more sophisticated in design. They offer better ways of life as well as extra privacy. If you're looking for high-quality interior shutters, you can depend on Bergen County Blinds to install your new window treatments. We have been catering to the citizens of Hoboken for some time now, and we've become the area's most trusted shutter company over the years. Contact our Hoboken team today and let out shutter company make your shopping experience a great one as we bring the treatments to you. You won't have to scramble around to find the window coverings you want because we'll bring them right into your home,
With good interior shutters, you'll have the very best of both worlds as you'll have window treatments with character along with being practical. They also have the following advantages for you to enjoy:
UV protection
Non-porous surface
Energy efficiency
Light control
Style & ambiance
Variety of styles
Real Wood Window Blinds To Enhance Any Room In Your Hoboken Home
If you are considering wood blinds for your Hoboken home, you may already be aware of the advantages involved with going this route. At Bergen County Blinds, we like to educate every one of our clients about the exciting options that they have available, including real wood blinds, because your window coverings are about more than just good looks.
For some homeowners, only the real thing will do when it comes to wood blinds and that is understandable – it certainly is one of the most stunning choices! It's also one of those options that will take a little extra care, as with any real wood product. For many, the main selling point of real wood blinds is that natural grain that just can't be replicated with its faux wood cousin. It certainly doesn't hurt that having real wood will add to the property value of your home, making this a wise investment when it comes to your window coverings. But it's important to remember that real wood blinds aren't ideal for rooms with moisture or humidity, like a bathroom, because they will begin to break down over time. You will also need to clean real wood more often in order to keep them in good condition and help to retain its value.
If you are looking for a professional Hoboken window blinds, shades & shutter company,
Reach Out To Bergen County Blinds