A Dependable Window Blind Company in Englewood Cliffs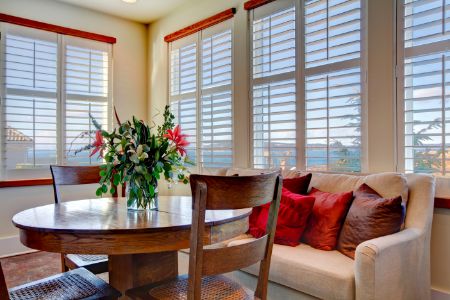 When you need to get new window coverings for your Englewood Cliffs home, you need to look to the area's dependable window-covering company, Bergen County Blinds. We offer a variety of quality products that will allow you to fully enjoy the beauty and functionality that window treatments can offer:
Plus many more! Your choice in window coverings can have a significant impact in the look of your home -- not to mention the overall functionality. To get the best look and functionality, you need to get the best products from our dependable experts.
The good news doesn't end there: We also offer window-covering motorization to add convenience to your Englewood Cliffs home. Whether you have difficulties operating your window coverings or simply want to enjoy this installation, you need to call on us for quality motorization.
Quality Wood Blinds for Your Englewood Cliffs Home
While it's important to consider aesthetics when you purchase new window coverings, you should also shop for durability. After all, your coverings are an important installation -- not to mention a costly one. So, you'll want to look for an option that's built to stand strong through the years.
The good news is that you can enjoy beauty AND durability. To do so, you need to opt for wood blinds. This window-covering option will make your Englewood Cliffs home pop with beauty while also helping you to save money thanks to its durable, long-lasting design.
Cut Your Monthly Expenses with Cellular Shades
In your endeavor to cut your monthly expenses, you may find that simply buying long-lasting installations to be an insufficient fix. Instead, you should strive to decrease your monthly bills. Ready for some more good news? You can enjoy a durable window-covering option AND reduced monthly expenses!
To do that, you need to opt for cellular shades. Like wood blinds, cellular shades are made to last.
However, they go a step beyond wood blinds since they also provide extra insulation for your Englewood Cliffs home. Doing so, this window-covering option will help to reduce your monthly heating and cooling costs, making them a great investment for the money-conscious homeowners among you.
Get Motorization for Your Englewood Cliffs Window Coverings
If you have mobility issues, you may find many everyday activities to be something of a headache. This headache can even extend to your window coverings. As you work to open and close your window coverings, you may find yourself more than a little frustrated.
Fortunately, we can help you take out this frustration. How? Easy: by providing motorization for your window coverings. This installation will allow you to open and close your window coverings with the touch of a button, adding convenience to your life while reducing a measure of the frustration.
If you are looking for a professional Englewood Cliffs, NJ window blinds, shades & shutter company,
Reach Out To Bergen County Blinds