Premier Caldwell Window Blinds, Shades & Shutter Company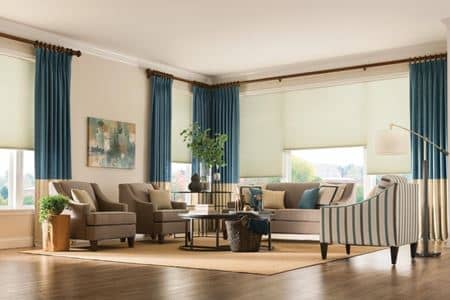 Home may be where the heart is, but it's all about finishing touches like window treatments when it comes to creating a sense of home-sweet-home in Caldwell. At Bergen County Blinds, it's essential to know you're teaming up with a blinds company that cares about your project. Your window treatments are our top priority until the job is done to your satisfaction.
We're able to work with all types of homes and all styles of interior design elements, from classic to contemporary. We'll help you through the selection process and then provide you with top-notch installation service. We'll even follow up with you after to make sure you still love your new window shades, blinds, or shutters.
Take the time necessary to create the dream home that you've always wanted. We're eager to invest the time and effort needed to make your Caldwell house feel more like a cozy but elegant home.
Understanding The Benefits Of Caldwell Shutters
Shutters can be the perfect fit for your style, and our custom shutters will undoubtedly be the ideal fit for your windows - literally. Your window treatment selection is critical because it impacts the interior design aesthetics and the exterior curb appeal.
Shutters can do so much for your Caldwell home because they offer perks like:
Added Insulation - Protect your windows and add a layer of insulation to help with better energy efficiency.
Property Value - High-quality window treatments are an investment because they add to the value of your home.
Best Privacy & Light Control - The unique louver control design of shutters allows you to get the most out of your privacy and light control.
You'll love the shutters we install in your home, so call us now to schedule your appointment.
Motorized Blinds Are A Game Changer For Homeowners In Caldwell
Window treatments are one thing, but motorized blinds or shades are taking things to the next level. If you want window coverings that do the work for you, all you have to do is call us. We'll provide you with motorization so you can control your window blinds with the touch of a button. This helps with:
Energy-Efficiency
UV Protection
Heightened Security
Greater Privacy
More Frequent Use
Bergen County Blinds is the company to count on when you're ready to get great service from a blinds company in Caldwell - so call us now.
If you are looking for a professional Caldwell window blinds, shades & shutter company,
Reach Out To Bergen County Blinds