Window Blind Products Provided by Bergen County Blinds
Window blinds complement your home's style and put that finishing touch on any room's decor. They offer you flexible light and privacy control and are available in a huge variety of styles from Bergen County Blinds.
Our top quality window blinds are from Hunter Douglas, Alta, and Graber. Below are just a few of the various styles we carry and install. Let our window blind company show you all of today's newest selections designed to make your home's living spaces beautiful.
Bergen County Blinds provides free on-site design consultations to a large area in and around New Jersey. Call today to enjoy this personalized shopping experience which makes it easy to find the perfect window blinds for your home or office.
Motorized Wireless Systems for Window Blinds
Hunter Douglas, Alta & Graber Blinds
Free On-Site Design Consultation
Window Blinds Up to 35% off Retail
WOOD BLINDS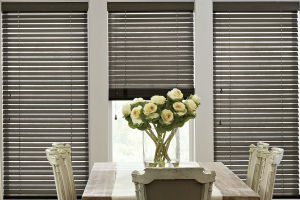 Parkland® Textures™ wood blinds feature the new wood species, Abachi, which is a beautiful light-toned wood with striped grain patterns when quarter-cut.
Parkland® Classics™ wood blinds are 100% basswood offered in a wide selection of paint colors, stains, and slat sizes. Choose from a variety of bright whites and rich, modern stains.
Parkland® Scenic™ is another 100% basswood wood blind featuring a beautiful wood grain. Available in a palette of finishes in whites, grays, and neutral tones to complement today's cabinetry and furnishings.
Parkland® Wirebrushed™ are basswood wood blinds offered in a range of stains in today's most popular colors with an intricate wire-brushed texture.
FAUX WOOD BLINDS
Our extensive collection of alternative faux wood blinds in realistic grain patterns are built to withstand heat and humidity.
EverWood® TruGrain™ are faux wood blinds available in a range of popular stains with flat and beveled options.
EverWood® Renditions™ is an economical faux wood blind in white finishes and wood-grain prints, ideal for rooms with high heat and humidity.
EverWood® Distinctions™ features a best-selling color selection of whites and neutrals. This durable faux wood blind brings a bright, classic look to any high-traffic area.
HORIZONTAL BLINDS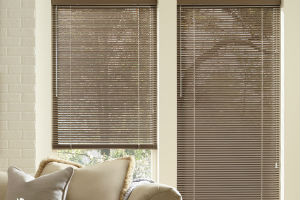 When the view is your focal point, opt for our Reveal® horizontal blinds with MagnaView®. Designed to allow slats to nest together for twice the view-through.
Natural Elements™ horizontal blinds are a unique combination of aluminum slats with a real wood valance, bottom rail, tassels, and tilt want. You can get the widest view with the MagnaView® feature.
MINI BLINDS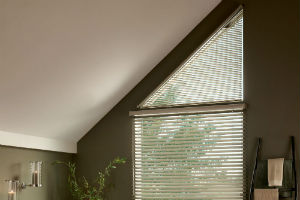 Lightlines® by Hunter Douglas is our 1 ½″ and 1″ aluminum mini blinds available in the widest range of colors and finishes, offering maximum light control and privacy with the de-Light™ feature.
Modern Precious Metals® is our 2″ Macro blinds available in a wide variety of modern textures and colors in unique finishes such as stone, linen, and brushed brass. Contoured and beveled headrails are available on select metal shades and you can even add PowerView® Motorization to tilt your blinds with your smartphone or tablet.
VERTICAL BLINDS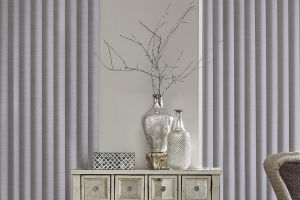 Cadence® Soft Vertical Blinds feature patented curved vanes that mimic soft drapery folds which move smoothly and quietly along their track; ideal for elegant styling and translucency.
Skyline® Gliding Window Panels offer a sleek, contemporary panel design that lends modern drama to a room. Perfect for covering large sliding glass doors, as a unique sliding room divider, and to cover large expanses of windows.
Somner® Custom Vertical Blinds offer the widest selection of colors and textures in vinyl, fabrics, and smooth metal aluminum finishes.
Alustra Collection® offers you the same patented Sliding Panel design as the original Skyline series but are distinguished by rich materials and textures handpicked from around the world for their uniqueness.
Vertical Solutions® are an economical vertical blind offered in an assortment of patterns and colors in 3 ½″ styles. Available in vinyl and fabric selections.
If you are looking for a professional New Jersey window blind company, please call 201 – 300 – 7965 or complete our