Bergen County Blinds: Ringwood's Window Blinds Pros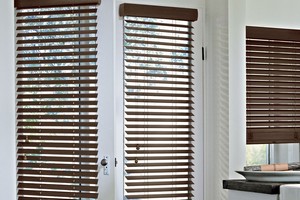 When you're looking for a professional shutter company that can help you find and install the right new window treatments for your Ringwood home, the only name in quality you need to know is Bergen County Blinds.As the premier shutter company serving the Ringwood area, we carry a wide array of high-quality products from some of the leading window blinds manufacturers in the industry.
Whether you're looking for style or function, the right window treatment options can have a marked effect on your home. Here at Bergen County Blinds, we carry a wide range of high-quality shutters, window blinds, shades, and even draperies to ensure you're always able to find what you're looking for. In addition to our quality products, our team of skilled professionals are some of the most experienced in the area and can provide you with an expert installation experience, as well as the ongoing service you need to keep your new window treatments looking and performing their best for years to come.
If you have any questions about our full line of high-quality window treatment products or services in Ringwood, or if you would like to schedule an appointment for your in-home consultation, give us a call today. Our team of experts is always standing by and would be happy to assist you.
Motorization For Your Shades In Ringwood
Bergen County Blinds is proud of our ability to deliver exactly what our Ringwood customers are looking for, and for many customers, the idea of conveniently being able to open or close their window shades from the comfort of their couch or chair is something they've always dreamed of. With our motorization options for your window treatments, you'll no longer have to pause your movie or show in order to get up and draw your shades to get rid of that annoying glare on the screen! At the push of a button, you'll be able to open and close your shades as you see fit.
With many motorized window shades systems, you can even program them to open or close automatically at specified times of the day, letting you focus your attention on other things around the house. If you have any questions about our motorized window shade services, just give us a call!
Your Windows Will Benefit From Roller Shades
Roman shades are an extremely popular window shade option among homeowners all over the country for good reason. Roman shades provide you with an interesting aesthetic you don't get from other shade options due to the fact that Roman shades are designed to fold flat on top of one another when they are drawn closed and will lay flat while they're extended. In addition to their beautiful aesthetic, Roman shades help to filter out harmful UV rays that can lead to heat buildup inside your home, as well as fade your furniture, upholstery, and flooring.
If Roman shades sound like the perfect option for your Ringwood home, give Bergen County Blinds a call today. We can help you pick the perfect colors and styles in shades for your home as well as guide you through the installation process.
Latest Projects in Ringwood, NJ