Your Old Tappan Window Blind Company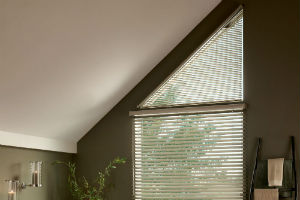 Are you in the market to get high-quality window coverings for your Old Tappan home? If you are, you need to call the local window blind company, Bergen County Blinds. We can help you find the right covering for your home, no matter what kind you're looking for:
Shades
Shutters
Draperies
And more!
Your window coverings provide more than just privacy and light control. They can also provide extra beauty and even value for your home. Some, such as honeycomb shades, even offer extra insulation, which will help you to save money on your heating and cooling costs.
Another great practical installation for your Old Tappan home is motorization. This installation will add ease and convenience to your home life by allowing you to open and close your draperies with a simple press of a button. If you or another member of your household has limited mobility, you'll find motorization to be a great investment.
Honeycomb Shades to Save You Money
Monthly expenses can be a killer. Between your rent or mortgage, utilities, and other expenses, you can find yourself hard-up for cash at the start of every month. So, you need to take any precautions you can to keep your expenses as low and manageable as possible.
A great precaution for that purpose is to get honeycomb shades installed in your Old Tappan home. Honeycomb shades will provide extra insulation, and this insulation will help to lower your heating and cooling costs by a noticeable margin. If you're looking to lower your monthly energy costs, you'll find this window covering option to be a great start.
Enjoy Our Durable Window Shutters
When you opt to buy major installations for your home, you'll want those installations to last for many, many years to come. After all, these installations are likely to be quite costly – at least for a decent quality. So, you need to invest in options that are durable and long-lasting.
When it comes to your window coverings, one of the most durable and longest-lasting options out there is shutters. Made from high-quality materials, shutters will be able to withstand many years of use and wear, allowing you to enjoy quality privacy and light control for years to come.
Get Window Motorization for Your Old Tappan Home
Our Old Tappan window blind pros offer more than just window coverings for your home. We also offer some great accessories to go with those coverings. One such accessory is motorization, an installation which will allow you to open and close your draperies with the touch of a button.
Motorization can add ease to your home life, and if you or a loved one have limited mobility, you will find motorization to be a great way to make that problem easier to live with. Call our experienced team today if you're ready to enjoy the great benefits that motorization can offer.
If you are looking for a professional Old Tappan, NJ window blinds, shades & shutter company, please call 201 – 300 – 7965 or complete our