Your Lodi Window Shades and Shutters Professionals
Are you thinking about getting new window coverings installed in your Lodi home? Then you also need to think about calling up your experienced window-covering pros at Bergen County Blinds and asking about our amazing line of products:
Blinds
Shutters
Shades
Treatments
And more!
We strive to provide the highest quality of both products and work in all our dealings with all of our customers. With our promise to not only meet but also exceed your expectations, you can count on getting the best new window coverings for your home when you have them provided by us.
The same goes when you come to us to have motorization installed in your Lodi home. This product will prove to be a great investment, both financially and personally. After all, motorization can increase your home's resale while also coming in handy should medical problems ever make it difficult for you to open and close your draperies.
Quality Window Shutters for Your Lodi Home
If you're in the market for an all-around great window-covering option, you should consider getting window shutters. After all, they offer excellent light control and a durable build quality that will allow you to enjoy them for years and year to come.
What's more, shutters come in a wide variety of colors and designs, so they can provide the perfect look for your Lyndhurst home, no matter what it's design might be. So, if it's an all-around awesome window covering you're in the market for, you'll find your answer in shutters.
Save Money with Honeycomb Shades
Maybe you're looking for something a little more specific than that. Maybe, for example, you're in the market for a window covering that will go a step beyond and offer something as substantial as money savings. Sounds like a real pipe dream, right?
Well . . . not exactly. After all, you can always opt to get honeycomb shades for your home. Honeycomb shades offer extra insulation, which allows your heating and cooling to work more efficiently. This feature, in turn, will save you money on your electric bills, making this window-covering option ideal if you're looking to save money.
Enjoy the Beauty That Draperies Offer Your Lodi Home
Maybe you're not too concerned with shaving some money off your electric bills. Maybe, instead, you're simply looking for a window-covering option that will get your Lodi home looking its absolute best. Should that be the case, you need to look to none other than draperies.
Draperies offer a timeless, stunning look for your home, and they come in a wide enough assortment of designs that they can offer the perfect look for any home. Call us today if you're ready to enjoy the unmatched beauty that draperies can offer.
Latest Window Covering Projects in Lodi
Graber Semi-Opaque Cellular Shades in Lodi, NJ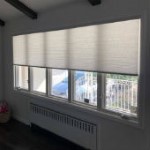 Graber Semi-Opaque Cellular Shades in Lodi, NJ

If you are looking for a professional Lodi, NJ window blinds, shades & shutter company, please call 201 – 300 – 7965 or complete our