Jersey City Can Rely On Bergen County Blinds For The Best In Window Treatments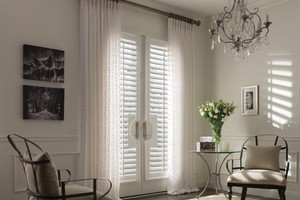 When you need a professional shutter company in Jersey City, you can feel confident knowing that the team at Bergen County Blinds has their fair share of expertise in the industry. We are proud to provide exceptional quality products, customer care, and workmanship to our customers in Jersey City. Let us show you how our name has become known for high-quality products and superior results. You can trust your team of pros at Bergen County Blinds to help you with all of your window treatment needs, whether you're looking for shades, shutters, window blinds, or even draperies. And if you don't know what you want, we can help you decide! We are more than just window blind experts-- we're design pros, too. For more information on the products and services we offer in Jersey City, call the best shutter company around-- Bergen County Blinds.
Choose Our Polycore Shutters For Your Home In Jersey City
If you're looking for a high-quality shutter option for your Jersey City home, our shutter company professionals suggest looking into polycore shutters. Some key highlights of polycore shutters include:
Functionality
Customization
Durability
Increased home value
Ease of maintenance
Energy efficiency
And so much more!
Made from an aluminum core that is co-extruded into a solid polymer, polycore is known for its superior durability. This is a great alternative to costly, real wood that can have more of a challenge holding up to daily wear and tear. Also, since they are lighter, this is less strain on your window frames, especially when covering oversized windows.
As with standard shutters, you still have excellent functionality because you can control the light more than any other window covering alternative. The efficiency comes from the fact that, when closed, these shutters add a layer of additional insulation. Plus, this is also a great option for increasing the property value of your home. Polycore shutters are also easy to take care of and clean. Avoid any abrasive cleaning agents and your shutters will look amazing for years to come. This is also ideal for homes with residents who may suffer from allergies, asthma, or any other respiratory health issues.
High-Quality Faux Wood Window Blinds In Jersey City
here is one window treatment option that is comparable to real wood-- at least in the looks department. Faux wood blinds are a great alternative to the real deal, for a number of reasons. This alternative is more budget-friendly, giving you the same great looks for less. Another reason many homeowners choose this product is that it is considered more durable than its counterpart. While real wood is still quite sturdy, the imitation version is even tougher when standing up against daily wear and tear. Real wood adds slightly more to the property value but you will have less concern about dealing with repairs or maintenance.
Bergen County Blinds can help you make sense of all of this by showing you the options that you have. From there we can discuss with you the pros and cons of each. This will help you to make a choice that you can feel good about in your Jersey City home and enjoy for years to come.
Latest Projects in Jersey City, NJ