A Dependable Window Blind Company in River Edge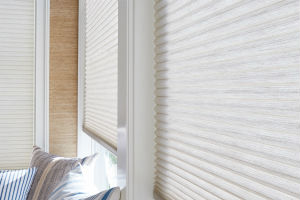 Your River Edge home wouldn't be complete without window coverings. To enjoy the highest-quality window coverings, be sure to get yours from the experienced window blind company, Bergen County Blinds. We offer a line of quality products to meet your needs:
Shades
Shutters
Draperies
And more!
Are you in the market for a practical window covering option? Then consider getting our honeycomb shades. On the other hand, you might be looking for something that's long-lasting and beautiful, which would make plantation shutters the option for you.
Maybe you're even looking to get motorization installed in your River Edge home. No matter what window covering product you may be in the market for, one thing is certain: You can count on our expert team to provide the best products and services in the area!
Save Money with Honeycomb Shades
Life can be expensive. Auto care, food, kids, bills: It all comes at you seemingly constantly, leaving you overwhelmed and your bank account dry. Unfortunately, you can't do anything to stop the expenses from coming. Fortunately, though, you can take some precautions to reduce the cost of some expenses.
When it comes to your heating and cooling bills, a great precaution to take is to get honeycomb shades. This window covering option will help to reduce your monthly heating and cooling costs by adding extra insulation to your home. Ask us about our honeycomb shade options today if you're ready to start saving money.
Ask about Our High-Quality Shutters
When you get new window coverings for your River Edge home, you should rightfully expect those coverings to go strong for many years to come. After all, they are likely to be costly enough – not to mention necessary. So, you shouldn't settle for anything that's not durable and high-quality.
For a durable and high-quality window covering option, you can hardly go wrong with window shutters. Shutters are made of sturdy materials and are sure to provide many years of use for you. For the highest-quality shutters around, give us a call today.
Window Motorization for Your River Edge Home
Window motorization can come in handy if you or any member of your household has limited mobility. This installation will allow you to operate your draperies with a simple touch of a button, taking away any discomfort you may otherwise experience trying to do so.
In addition to offering this better convenience and comfort, motorization can also boost your River Edge home's property value. Do these sound like qualities you'd like to be enjoying? If so, give our window blind company a call today!
If you are looking for a professional River Edge, NJ window blinds, shades & shutter company, please call 201 – 300 – 7965 or complete our